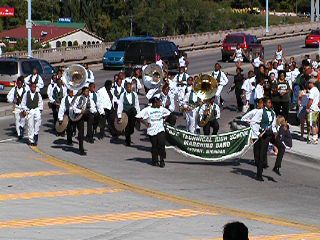 Cass Tech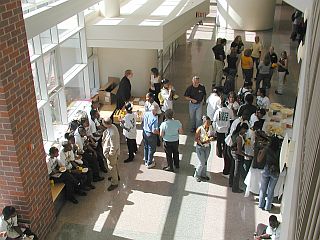 Reception in the Dow Building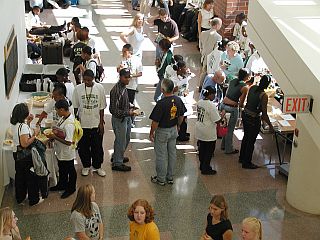 Representatives of the Engineering programs met with students in the atrium and on the tours.
The Cass Tech Marching Band was among the entries in Saturday's Parade of Nations, getting applause and cheers on the way from Hancock to Houghton.
The annual parade featured contingents of international students and community members traveling from Hancock Middle School and across the Portage Lake Lift Bridge to Dee Stadium in Houghton.
In addition to their appearance in the Parade of Nations, the Cass Tech Band presented a marching band workshop at Sherman Field for local high school bands on Friday, Sept. 16. They toured Admissions, the School of Business and Economics and the College of Engineering which provided a reception in the Dow Environmental Science and Engineering Building Atrium.
The Cass Tech Band, representing Detroit's well-known magnet high school, has traveled all over the U.S. and performed at numerous colleges and universities. Its audiences have included three Michigan governors and the past three mayors of Detroit, including Coleman Young, Dennis Archer and Kwame Kilpatrick, a Cass Tech alumnus.
After the parade, the community attended the Multicultural Festival, where foods from around the world were served.