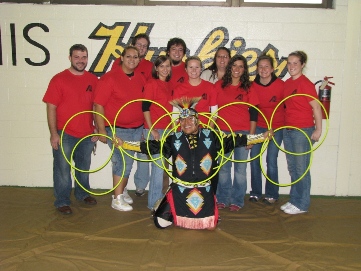 Michigan Tech American Indian Science and Engineering Society lg image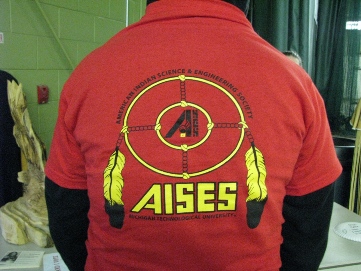 Sponsored by the Michigan Tech American Indian Science and Engineering Society which is a chapter of the American Indian Science and Engineering Society
This event is sponsored by Michigan Tech Educational Opportunity the Michigan Tech Outreach and Multi-Ethnic Programs, Undergraduate Student Government, the Chrysler Foundation, Michigan Tech AISES and the Keweenaw Bay Indian Community.
The 13th Annual Native American Speakers' Forum was part of two days of Native American events, hosted by Michigan Technological University and the American Indian Science and Engineering Society, which culminate in the Spirit of the Harvest Powwow.

"The forum and powwow are an opportunity for community members to learn about the Native American cultures in the region through a relaxed, fun event," said Lori Sherman, Native American outreach coordinator at Michigan Tech.
Featured presenters were Lemyra DeBruyn on "How the Eagle Books Got Their Wings"; Sam English on "Healing Through Arts"; and two motivational speakers, Iris PrettyPaint and Lowery Begay. Begay also performed a traditional hoop dance.

Presentations will include a variety of native dance, music and exhibitions. Sam English presented a "Healing Through the Arts" workshop.

Members of the Keweenaw Bay Indian Community served as the color guard, with Donald Chosa as the head veteran dancer. Other dancers included the head male dancer, Roger LaBine, an Ojibwe tribal member of Lac Vieux Desert. Youth head dancers were Keweenaw Bay Indian Community representatives Ethan Smith and Tashina Emery-Kauppila, who is also the 2008 Miss Keweenaw Bay Indian Princess.

Drummers for the powwow include the Four Thunders Drum Group from Baraga and Lac Vieux Desert, as well as the Loon Travelers. Stone Boy will be the host drum.
See also John Gagnon's Tech Today story: