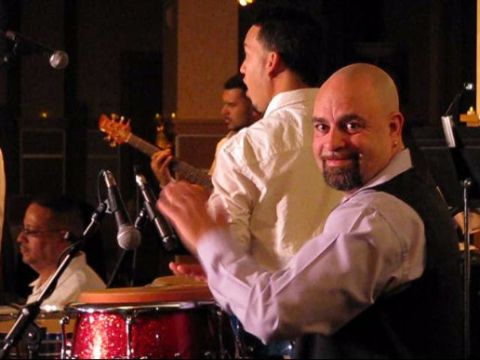 Sergio Poventud y su Orquesta Veneno performing in the newly rennovated Michigan Tech Memorial Union Ballroom orquestaveneno.com
The 6th Annual Gala Latina took place Saturday, Oct. 16, 2010 from 9 p.m. to 1 a.m. in the Memorial Union Ballroom on campus.
Gala Latina is sponsored by Michigan Tech's Chapter of Society of Hispanic Professional Engineers (SHPE). Open to the general public, attendees learned salsa, merengue and cumbia and then danced to the most exhilarating music on the planet.

Michigan Tech's SHPE chapter has student members from all over the world, including Argentina, Brazil, Colombia, Cuba, Dominican Republic, Ecuador, El Salvador, Mexico, Paraguay, Peru, Puerto Rico, Spain, and more.

This year, Gala Latina featured the 13-piece band, Sergio Poventud y su Orquesta Veneno, from Milwaukee, WI. (orquestaveneno.com).
Find out more about Center for Diversity and Inclusion

Story in the Daily Mining Gazette